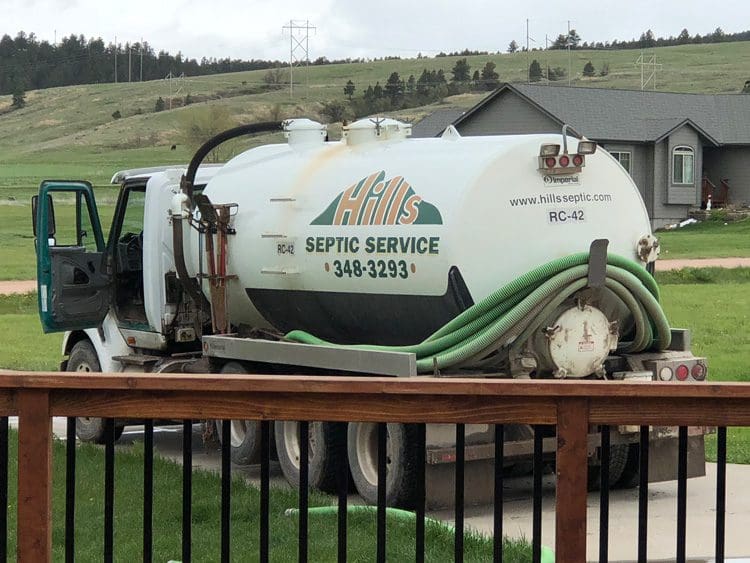 At Hills Septic Service, we make pumping your septic tank an easy, painless, efficient procedure.
Our services are available summer, winter, spring and fall. We take great care to pump your tank out thoroughly and completely.
We appreciate the trust you place in us to check the condition of your tank and baffles. Any problems or concerns will be reported to you on your invoice. We will also follow up with a phone call to discuss any solutions we may have.
When we pump your septic tank we will take carefully detailed notes and measurements about the type of septic tank you have and the location of the lid.
This information is entered into our database so that we will automatically have it the next time you call.
As our septic tank pumping services require that we travel to your home, we assure you that we will take the utmost care to respect your home and property. Our drivers are trained and experienced. Our trucks are equipped with 180 feet of hose so that we can pump your tank from your driveway or the side of the road. We will not damage your lawn or property.
We can pump your septic tank when no one is home. We require payment within 10 days of service. We accept cash, checks, Visa or MasterCard. Our prices are reasonable and our service is the best in the business. Ask about "neighborhood discounts" when two or more neighbors schedule their septic tank pumping at the same time.
We will help you properly maintain your septic system by sending you a reminder card when it is time to pump your tank again. We will determine how often you should have your tank pumped by the size of your tank, age of your system and the number of people living in the home.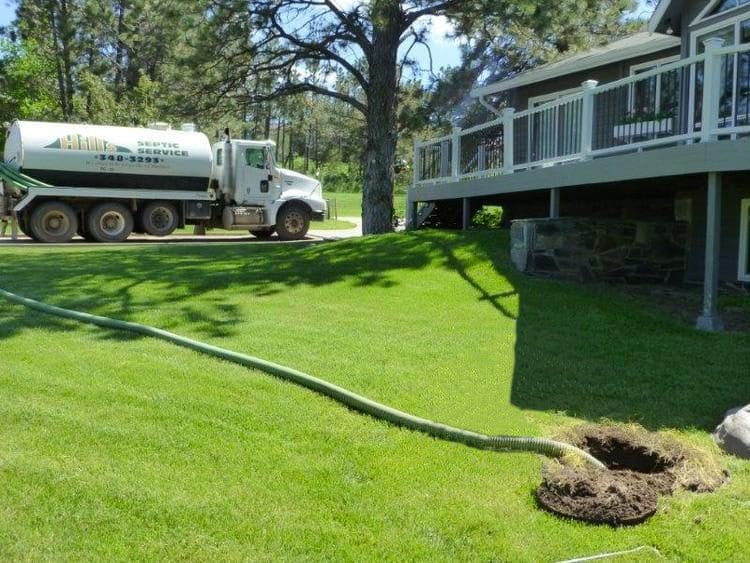 HAVING TROUBLE LOCATING YOUR SEPTIC TANK?
Not to worry, we can find it for you! Our expert technicians can often locate the tank quickly using a simple probe. If that method doesn't work, we have radio-transmitter locating devices that can be used to find that elusive tank. And rest assured, after we have located the tank, excavated the covers and pumped out the tank, we can install risers to bring the lid to ground level. This will eliminate the cost of locating and digging up the lid in the future.
THERE ARE MANY DIFFERENT TYPES AND STYLES OF SEPTIC TANKS
Septic tanks usually have three covers on the top: An opening at the inlet of the tank, a center "cleanout" opening, and an opening at the outlet of the tank. Some tanks, however, have cleanout openings at either the inlet or outlet side of the tank. If the septic tank has two compartments, then two covers must be exposed so that the tank can be pumped out thoroughly. It is important to pump the tank through the proper openings. If tanks are pumped through small baffle openings, the baffles can be damaged and the tank cannot be pumped out thoroughly.
Remember: You can never get your septic tank pumped too often. Many people do not get it pumped frequently enough. This often results in the need for expensive, inconvenient repairs.
Plan ahead! Call to get your tank pumped before birthday parties, weddings, family get-togethers, and other special occasions to ensure that the system performs properly for you and your guests.
Commercial Pumping
We realize you are trying to operate a business and need the job done quickly and right the first time. Our team of experts is thoroughly trained to clean your tanks, evaluate the situation and diagnose any issues that may cause any future problems.
Our goal is to help you keep your system well maintained in order to prevent any costly repairs. When we service your tanks we will take carefully detailed notes. This information is entered into our database so that we will automatically have it the next time your tank needs to be serviced. Our office staff would be happy to keep track of your maintenance schedule and be assured we will take care so you can focus on your business.
Commercial services include:
Restaurant Grease Traps

Car Wash Pits

Sumps

Scum Pits
Holding Tanks

Wash Bay Pits

Waste Water Tanks

Floor Drains